​​​​​​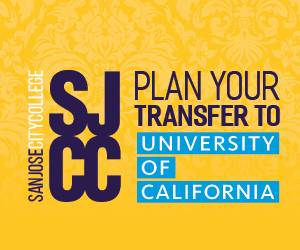 ​​​​San José City College and 10 participating four-year institutions are offering a Transfer Admission Agreement (TAA) or Transfer Admission Guarantee (TAG) to students planning to transfer to four-year colleges / universities.
The TAA/TAG program is designed for students who wish to have an early confirmed guaranteed admission. Sign up for a counseling appointment or transfer center appointment to get on track for your future university transfer Register Here
UC Transfer Admission Guarantee (TAG) Application Deadline:
September 30 (typically)
To apply, log onto UC's Transfer Admission Planner

More information about​ University of California (UC):

TAG specific requirements and Guaranteed Admission​

Need help creating a TAP Account? Attend a TAP workshop and/or view this Video.
Why should students transfer through the TAA/TAG Program?
Early confirmed guaranteed admission
Eligibility to participate in transfer-related workshops (e.g. insight questions)
Notification of any information relating to transfer
Additional advising support services
Possible waiver of application fee
TAG/TAA filing period
Please note: Students may only apply for one (1) UC TAG
Find out the UC Transfer Admission Guarantee (TAG) requirements for students applying for 2022-23 Admission using the TAG Matrix

In addition to the TAA/TAG program, San José City College offers transfer course/major agreements with many other University of California, California State University, and private/independent institutions.
Please check the Articulation Page for other agreements.